FLEXFLIGHT® offers domestic and international air ambulance services on our Challenger 604 and PC-12 for patients from moderate to the most critical of medical needs. 
Our experienced operational and medical team will evaluate and follow the patient to guarantee operational safety. 
FLEXFLIGHT® provides a dedicated air ambulance with a COVID19 isolation chamber, allowing our medical staff to provide excellent care in a safe environment throughout the transport of a COVID19 patient. 
A Pilatus PC-12 from Roskilde-airline company FlexFlight flew the danish badmintonstar Viktor Axelsen home to Denmark from his coronaisolation in Ukraine.
The bill for the flight is around 130.000 danish crowns, and is confirmed by a FlexFlight-director.
Monday morning kl. 08.56, a Pilatus PC-12 from Roskilde Airport with direction to Kyiv Boryspil International Airport in Ukraine. It was not a routine-flight, but instead a special ambulance flight, where the danish badminton star Viktor Axelsen should be transported home from Ukraine.
The danish OL-hope was this weekend tested positiv for COVID-19 under the EM-tournament in Kiev (Kyiv) and was looking forward to 14 days of hotel-quarantine in Ukraine, and that would spoil his preparations to the summer Olympic games in Tokyo. But Viktor Axelsen chosed to act and arranged a flight home under safe conditions.  "After a long range of considerations and conversations with my staff, I have personally decided to arrange and pay for a private ambulance flight, which will transport him safely home to Denmark, off course according to actual corona-restrictions and considerations," writes Viktor Axelsen on his Facebook-profile.
Transported in an isolationchamber
Monday at 12.56 the plane landed in the Ukrainian airport, and after fixing the necessary formalities, the plane could take off at 17.42  from the airport in Kiev and it was back on Danish soil around 3 hours and 40 minutes later. During all of the trip home, Viktor Axelsen should stay in a 198-centimeter-long isolation-chamber, which was transported from the ambulance and into the plane, while the medical crew made sure that everything went well and nobody else could be infected.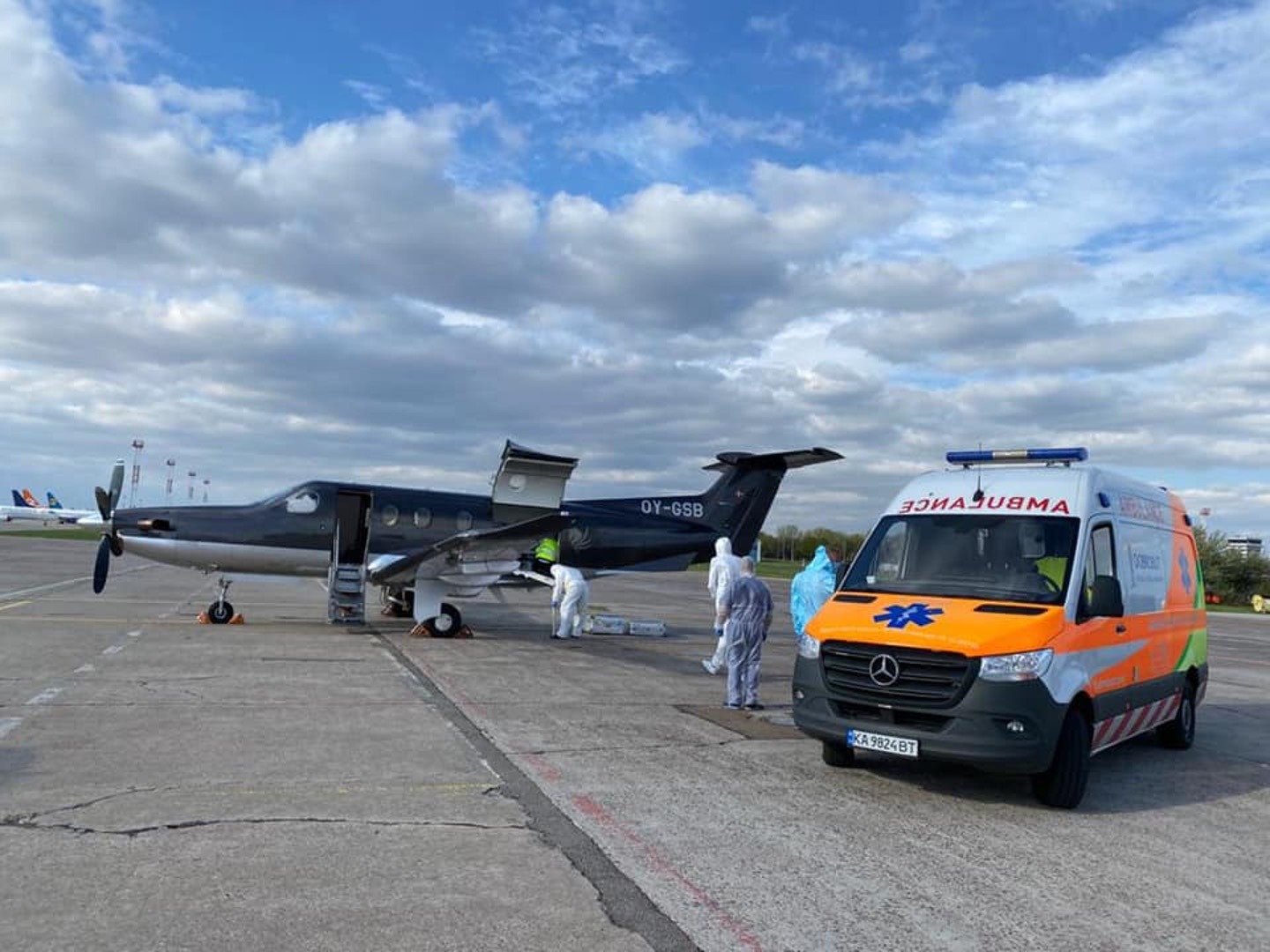 Pilatus PC-12 from Flexflight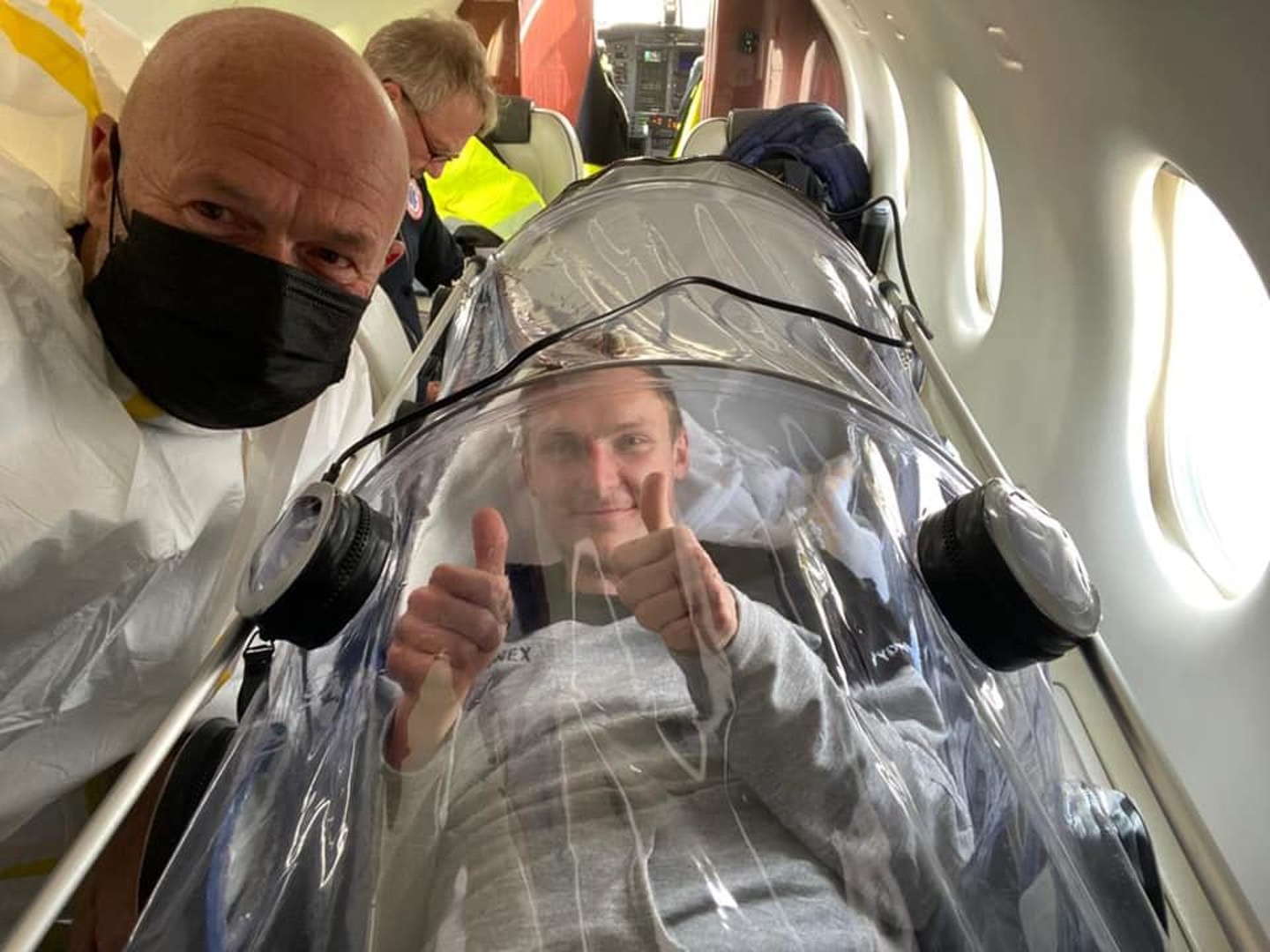 Viktor Axelsen in isolationchamber in Pilatus PC-12 plane from FlexFlight. – Photo: Viktor Axelsen | Facebook
Article printed from CHECK-IN.dk: https://check-in.dk
URL to article: https://check-in.dk/alt-hvad-vi-selv-havde-ansvaret-for-var-der-styr-paa/
Copyright © 2019 CHECK-IN.dk. All rights reserved.
In a comment on Facebook, Viktor Axelsen gives a special thank you to FlexFlight, which according to him has been "deeply professional" while working with the arrangement and home transport and they have taken care of the necessary licenses and approvals.
Challenges in toll and immigrations
The one-engined turboprop plane has a range of 2.960 kilometer, and that was more than enough to fly the 1.400 kilometer long trip between Kiev and Roskilde without any bstop-over. In the cabin was, apart from Viktor Axelsen also a doctor and his mental coach B.S. Christiansen.
At FlexFlight they are sure, that the task was handled in a very satisfactory way.
"Everything, that we were in charge of, was under control. But there were some challenges when the isolation chamber should pass through the immigration and toll, because the personal in the airport had never seen such a device before, says CEO Christian Honoré from FlexFlight to CHECK-IN.dk.
If others would like a trip like this, it would cost around 130.000 danish kroner inclusive the empty flight from Roskilde to Kiev. Sources has informed CHECK-IN.dk, and it's confirmed by the CEO from FlexFlight.
Hi everyone.
First of all I want to thank you all for all your messages and support. I really appreciate it. THANK YOU.
Since testing positive yesterday I've been in isolation at my hotel room, and I only have really mild symptoms.
After talking with my team and going through my situation multiple times, I've decided to personally arrange a privat ambulance jet with the highest safety and medical standards to help me get back home to Denmark.
I will be transferred from the hotel by ambulance, then plane and lastly another ambulance when landing in CPH – all the way in a IsoArk N36-7 Isolation chamber, until I'm back in my quanrantine location in Denmark. At my quarantine location in Denmark, I will be able to follow the right diet and also have the opportunity to do whatever physical training I'm able to do. When arriving in Denmark I will follow the Danish regulations and make sure that I'm tested for any complications properly when time is right. There will also be a medical crew present all the way to Denmark, to make sure that everything is going as planned.
Time is really valuable right now and as we get closer to the Olympics, I will do whatever I can to get back to Denmark and back to training in a safe and responsible way, without putting anyone in risk. I've been training so long and hard to get ready for the Olympics, so hopefully I will be recover from this without any complications and get back to the court soon again. First when I'm cleared by a medical team in Denmark, I will be able to return to the courts.
I realize that I'm really priveleged to be able to do this and my thoughts is with the millions of people around the world, who doesn't have to resources to fund initiatives like this, let alone get the neccesary medical help when needed the most. It's hearbreaking and I hope, like everyone else, that this pandemic will be over soon.
A special thanks to my mental coach and close friend BS who will not only be present on the trip home, but who also has helped me get in contact with the amazing and professional crew from Flex Flight who is making sure that I get back home in the safest way possible.
I will keep you posted and thanks once again for your support!
Viggo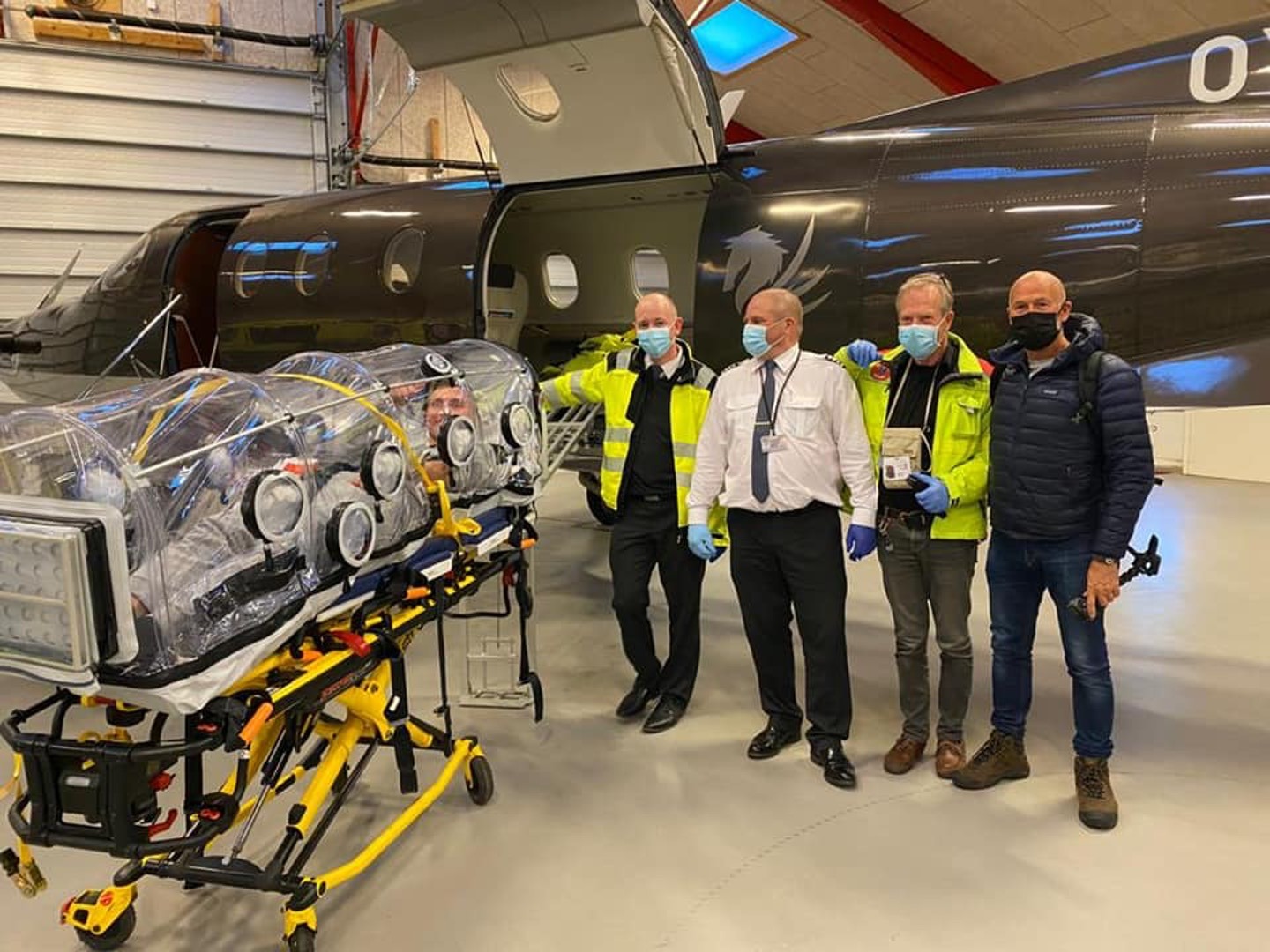 The two pilots and the medical crew, and Victor in our(isoak N36-7) isolation chamber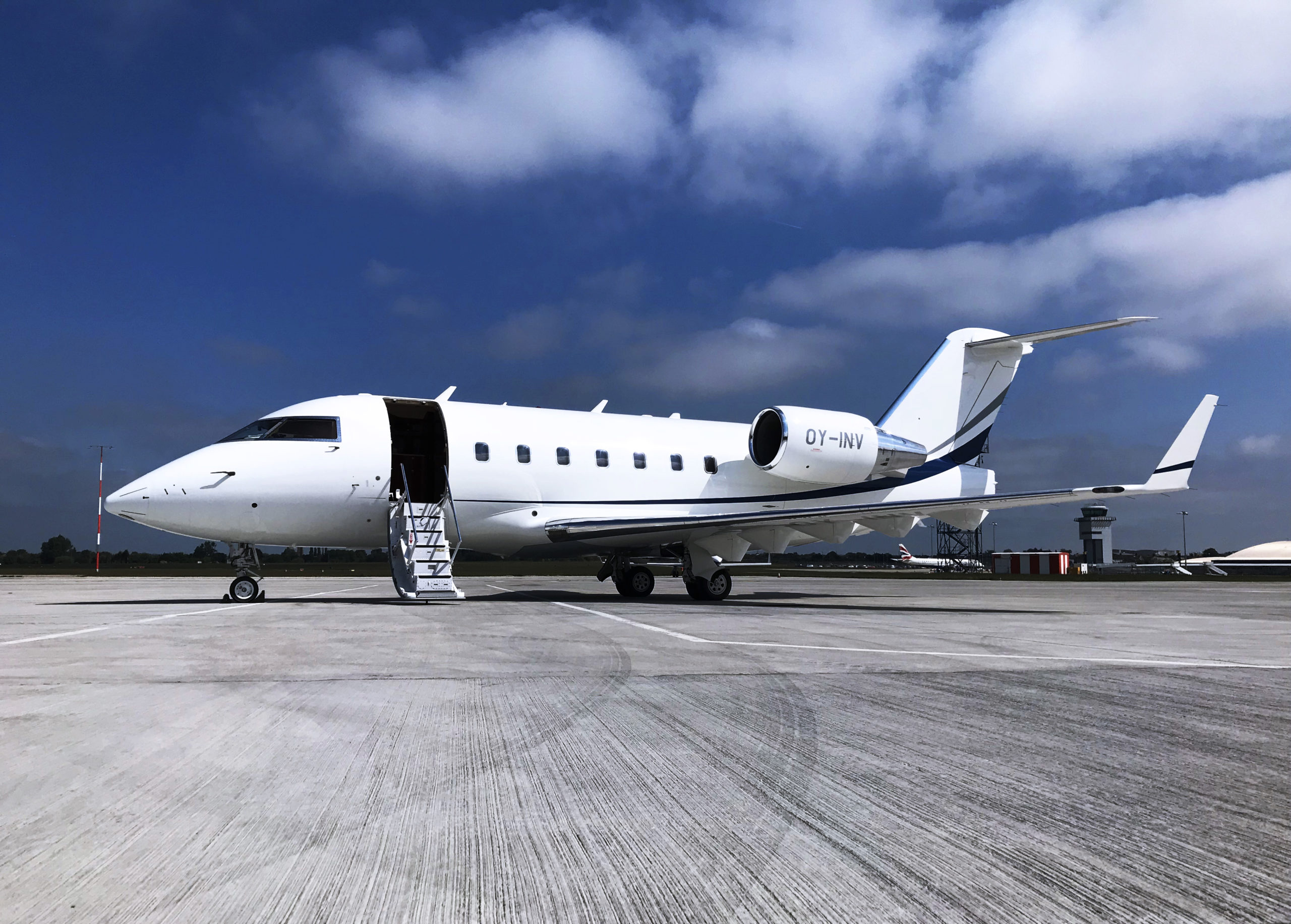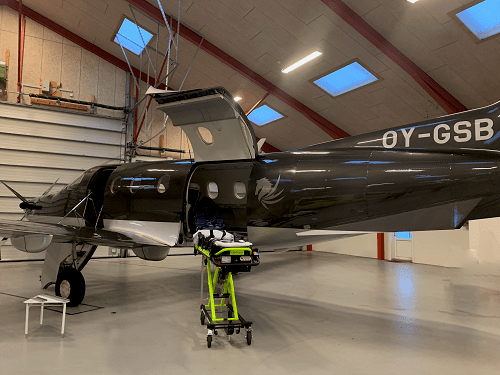 The Challenger 604
The Challenger 604 intercontinental business jet combines high standards and speed/range with medevac equipment for ambulance flights.  See under "Our Fleet" to find more specifications.
Performance information:
Average range is:      3800 nm  (7.037km)
Max cruise speed:     470kts.   (870 km/h)
Max altitude:           41.000 ft   (12.497m)
Takeoff distance:       5.800ft    (1.767m)
THE PC-12
The PC-12 is ideal for Medevac due to its ability to operate in and out of short airfields. It has a large cabin and a wide cargo door. The average range of the PC-12 is 1.400 nm.
The PC-12 is additionally suitable for CARGO transport with a maximum weight capacity of 600kg.
Our 
24/7
operations center 
is
 ready to assist
 at 
+45 
45 80 70 60.
Our crew is 
on 
2
–
hour 
standby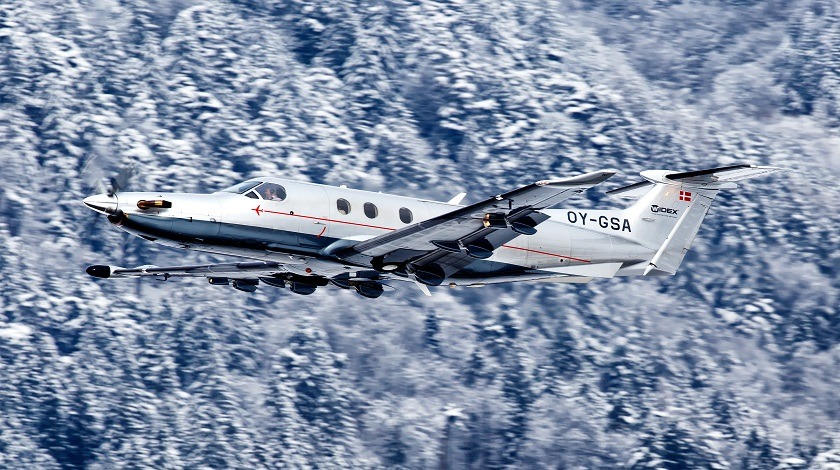 Our Fleet
We have a fleet of various aircraft from small Very Light Jets to Heavy Jets. Please visit our fleet section to learn more about our fleet
W2 Airline Tickets
If you need support or information regarding scheduled flights (W2 XXX) operated by one of our partner airlines, please click on the button below.
Charter Request
Our Sales Team is ready 24/7 to offer you the best aircraft solution to your Private Jet Charter request. Please do not hesitate to send your inquiry to us