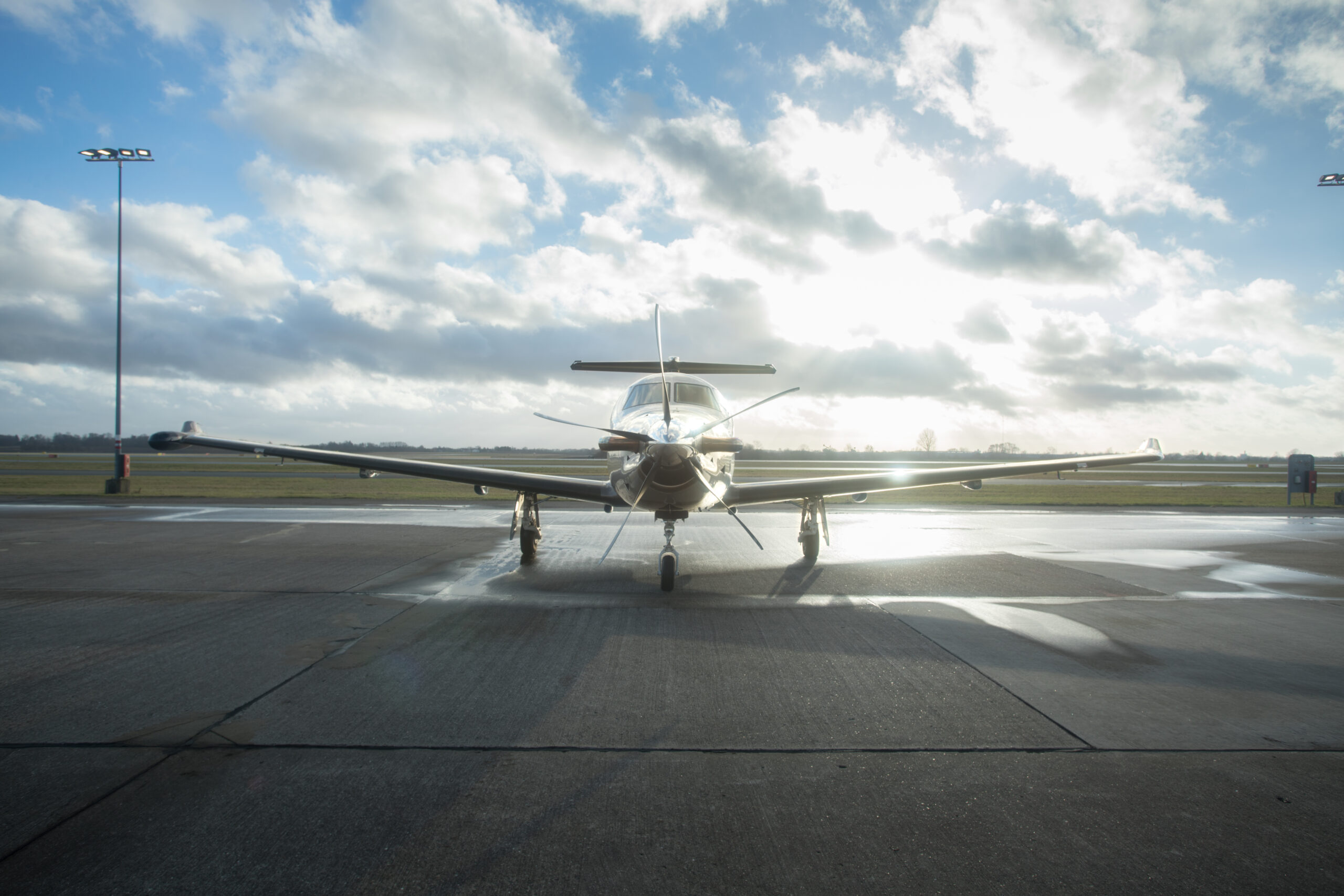 Pilatus PC-12/47E, OY-NBS
This Pilatus PC-12/47E is the ideal aircraft for European flights, combining cost-efficiency with excellent access to Europe's smaller airports.
The aircraft cabin has very comfortable chairs, seats up to eight passengers, has a hot and cold beverage area as well as a well-equipped mini-bar.
Regional Business Jet
The Pilatus PC-12/47E is perfect for European destinations. The PC-12 is very suitable for corporate travel or as cargo transportation. 
Self service bar
Onboard you can find a self-service bar with a selection of beverages and snacks. On every flight, we serve a cold Business Class meal suitable for the time of the day.
Up to 8 passengers
The aircraft can accommodate up to 8 passengers but to keep the highest level of comfort we recommend a maximum of 7 passengers on board.
| | |
| --- | --- |
| Year of Manufacture | 2009 |
| Interior refurbishment | 2009 |
| Exterior refurbishment | 2009 |
| Seating configuration |   |
| Cockpit | 2 |
| Cabin | 8 |
| Belted Lavatory | No |
| Bed capacity | No |
| Smoking allowed | No |
| Pets allowed | Yes |
| | |
| --- | --- |
| Max range | 1.600nm (2963.2km) |
| Max cruise speed | 490.78km/h |
| Max altitude | FL300 |
| Takeoff distance | 2602ft (793.0m) |
| Max cargo weight in the baggage compartment | 160 kg  (352 lbs) |
| Cargo door dimensions | 4ft 4 in 132.08 cm |
| Baggage Volume |  TBA m³ |
| Cabin height | 4ft 10 in 1.47m |
| Cabin width | 5ft 0in 1.52m |
| Cabin length | 16ft 11 in 5.15 m |
| | |
| --- | --- |
| Full refreshment Center | Yes |
| Hot meal service | No |
| Satcom phone | Yes |
| Poweroutlet 110 v | Yes |
| Ski-tube | Yes |
| Wi-Fi on board | No |
| Aft Lavatory with door | Yes |
| Smoking allowed | No |
| Pets allowed | Yes |
PILATUS PC-12/47E MAX RANGE MAP FROM LONDON
Request a Quote
If you would like a quote for this aircraft please request it here